Champion Lakes Provincial Park

We will welcome campers starting May Long 2023 to Champion Lakes.
Please obey all in park signs, limit your campsite to 8 people total 24/7, work to maintain physical distancing, frequently wash your hands and most of all, be kind to all.
In the off season the Park gate will remain open but sorry, no off season camping allowed.
Champion Lakes is an undiscovered gem for those that truly appreciate a more rustic experience. It is an ideal destination for outdoor enthusiasts with its chain of picturesque small lakes and mature forest. This park offers an all-inclusive recreational package to visitors including fishing, canoeing, hiking, mountain biking and swimming.
Two of the three lakes in the chain are ideal for canoes, kayaks and car top boats. Sorry no propellers are allowed. The lakes are stocked with Rainbow Trout which makes fishing one of the main attractions. You can also enjoy a slow, tranquil paddle through the marshy shallow areas covered in pond lilies featured in both the 2nd and 3rd Lakes.
There are 6.5 km of easy, well maintained walking trails linking the lakes together. The winter cross country trails and deactivated logging roads adjacent to the park make for great mountain biking. The Champion 3rd lake with its two day-use areas is known for warm water and is popular with the local communities of the Lower Columbia.
Be sure to take time to check out the new interpretive panels along the 3rd Champion Lake Rd on the importance of conserving the Western Painted Turtles  population at Champion Lakes. The panels were the result of a working Partnership between Columbia Basin Trust, Wildsight, RAP Park Contracting, Pink Dog Designs and most importantly, the Salmo Elementary school.  The goal of the program is to encourage better stewardship practices to follow while enjoying the local park.
Firewood is available for $10 per basket.  In compliance with the BC Parks Act an an overnight fee of $12.00 will be charged for all additional vehicles parked in sites.  The alternative is to park additional vehicles for the night in the boat launch area.
Come and enjoy the best of winter at Champion Lakes!  Cross country skiing on a network of trails maintained by the Beaver Valley Ski Club.  The warming hut is open for all with plenty of firewood on hand to stoke the fire.  Please use with care!
 Local Places to Explore:
Fruitvale Close to the park, Fruitvale is a full service community with a compact pleasant downtown core. There are several parks and playgrounds, baseball complex, soccer fields, arena and all season sport courts.
Liberty Foods – 1950 Main Street, Fruitvale, B.C.  250.367.9911   Offering a large variety of local organic & gluten-free products, in store Bakery, Deli & Meat. Quality fresh produce   Store hours:  Monday – Sunday: 9:00am – 6:00pm
Salmo  A small friendly community 20 minutes from the park, Salmo has groceries, hardware, liquor agency and 2 great restaurants, the Dragon Fly and Salomon Grill open 7 days per week.
Trail, B.C.  Take a walk through Trail the national award winners of Communities in Bloom for their show gardens and home of interesting historical Rock Walls. Lots to explore!
Discover B.C. Lower Columbia  The lay of the land offers great circle routes that can be explored in single day excursions with lots to side track you along the way.
Kootenay Columbia Trails Society  Has all the information on the extensive regional network of trails around the Columbia Valley including the challenging Seven Summits Trail.
Natural & Cultural Values
History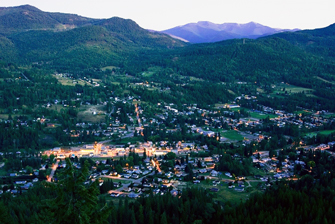 In the early 1900s the area belonged to The Columbia and Western Railway but reverted to the crown in 1919.
During the 30's and 40's the local rod and gun club stocked the lakes and improved trails to allow access for recreational purposes. The park was established in 1955 and the lakes and creek are named for James W. Champion, an early settler and orchardist of the area. Champion Lakes Park lies in the Ktunaxa/Kinbasket, Okanagan and Sinixt first nation traditional territories.
Wildlife
Champion Lakes is home to an important population of the colorful Western Painted Turtles. On warm days you may see the turtles swimming in the shallow water or basking on logs and rocks. Human activities and pets on or near the nesting areas reduce the chance of survival. Visitors to the park can help to protect the turtles by only observing them from a distance and by keeping pets under control at all times.
Birds are quite prevalent with Nighthawks, Woodpeckers, Canada Jays, Belted Kingfishers, Western Tanagers and Oregon Junkos being the most common. Loons, Mallards, Widgeons and the Great Blue Heron are more likely to be seen early in the season. In spring and fall, migrating waterfowl specifically Canada Geese rest on the lakes during their journeys north and south.
A diverse population of small mammals such as squirrels, chipmunks and porcupines can be spotted in the park. On occasion see moose, deer and bears.
Before venturing out into the park please take a few minutes to review the Wild Life Guidelines laid out by BC Parks
Park users should always be aware of wildlife in our natural park environment and never feed or approach bears or other wild animals, please view from a safe distance. The best way to avoid incidents with wildlife is always look ahead on the trails, make noise; talk to your friends, or sing your favorite song, make your presence known. If you see an animal, take a detour and leave the area immediately.
Wildlife viewpoints are located at both Second & Third lakes as well as a lookout at the top of the Lookout Trail that overlooks the Park. All three locations have a park bench. Loons and Mallards are common through the summer rearing young in addition to a large variety of forest bird species.
View wildlife safely by following a simple code of Conservation Ethics:
Please be considerate of wildlife and use binoculars to view from a distance rather than approaching them to closely.
Be considerate of Habitat – Plants are important habitat for wildlife, please do not damage, pick or trample and stay on the designated trails.
Control pets by keeping dogs on a leash and under voice control at all times in order to protect wildlife and preserve their habitat.
Canoeing, Kayaking and Stand up Paddle boarding
Canoes, kayaks, paddle boards and rowboats are best suited for the Champion 3rd and 2nd Lakes.
About the Lakes
There are 3 lakes in the park referred to as Champion 1st, Champion 2nd and Champion 3rd Lakes.The first lake you come across when arriving at the park is the Champion 3rd Lake. This lake is ideal for canoes, kayaks and car top boats and is accessed with a single launch site with a concrete plank ramp and a parking area. All the facility development is concentrated around the 3rd Lake. There is a small dam system at the end of ake that is maintained by BC Fish and Wildlife with assistance by the Park Operator.
The 2nd Lake is more remote and ideal for fishing and slow paddling through the marshy shallow areas covered in pond lilies. There is a rustic boat launch with parking available. The shoreline along both boat launches is in its natural state and is therefore not developed for canoes, kayaks or boats to be beached overnight. At your own risk they may be left in the boat launch area overnight.
The 1st lake is only accessed by a portage trail from the 3rd Lake.
The 3rd Lake is undergoing a major cleanup program for the removal Eurasian Water Milfoil. Please do your part to prevent growth of nuisance weed populations. Eurasian Water Milfoil can be spread by fragments carried on your boat and trailer. Please be sure to clean all lake weeds from your boat and trailers before you launch.
The Lakes are managed by the Province and stocked by the Freshwater Fisheries society of BC. POWERBOATS AND MOTORS OF ANY DESCRIPTION ARE STRICTLY PROHIBITED ON ALL THREE LAKES.
Fishing
Champion 3rd Lake is stocked with Fraser Valley Rainbow Trout. Anyone fishing or angling must have an appropriate license. The purchase of your freshwater fishing license pays for the stocking of lakes across the province. Click here for more information on how to obtain a license. Check the BC Fishing Regulations Synopsis for quotas and restrictions. Ice-fishing is allowed during the winter season. Check out other hotspots in the area.
Swimming
There are two beaches on 3rd Lake: Campers' beach on the west end and the Main day-use beach on the east end. Warm water and a combined 300 metres of compacted sand beaches provide excellent sunbathing and swimming.
Caution: There is a sharp drop-off at the Main beach and there are NO LIFEGUARDS on duty at anytime.
Cycling
The trails and roadways in and around the park are more suitable for Mountain Bikes. Just outside of the park are good cross-country skiing trails and deactivated logging roads that are suitable for riding. Bikers should always yield the right-of-way to other trail users. Should you encounter hikers on any trail, please yield the right-of-way.
Road Riding along the main highway 3A through the farm land is a great option.
The more hard core riders can challenge the Bombi, the highway that connects the Hwy 3A to the main Hwy 3 at Castlegar.
For more routes in the area check out Kootenay Columbia Trails Society.
Hiking
A total of 6.5 kms of gentle hiking trails connects the Lakes and encompasses the 2nd and 1st Lakes.
3rd Lake Loop trail follows the shoreline, is 1.5 km long, takes approximately 40 min to hike and is popular for traveling from Main beach to Campers beach.
2nd Lake Loop trail is the most popular trail and can be accessed from three locations; the parking lot of Campers beach day-use/picnic area, beside campsite #82 and from 2nd lake boat launch. The trail is approximately 2.5 km with a 45 min hiking time and has several boardwalks, passes through old growth forest and offers scenic views of march grasslands. 2nd lake itself has shallow places covered in pond lilies with reed flats found in the marshy areas. For your relaxation a viewing area with bench can be found at the north end of the lake.
1st Lake Loop trail starts from the 2nd lake boat launch parking lot. It starts on 2nd lake trail then branches off and follows the creek between 2nd and 1st lake. It continues along the east shore of 1st lake and returns through the forest to your original starting point from the boat launch. Allow yourself 1 hour for the 2.5 km hike. This trail is the most serene of the three loops and in the fall offers spectacular fall color when the larch turn yellow and begin to lose their needles.
Lookout Trail is approximately 750 metres with a moderate to steep grade. Depending how long you spend at the top it is a 40 – 60 minute round trip and offers picturesque views of the lakes below. For additional hiking opportunities in the area please click through to Kootenay Columbia TrailsSociety.
Golfing
Champion Lakes Golf and Country Club 5062 – 5916 Par 72 – Book at Tee time 1.250.367.7001The course is located on the Champion Lakes Rd, not far from the turn off of the main highway. They have a quality, well stocked pro shop, offer great food and smiles are free.
Redstone Resort 5025 – 6860 Yards, Par 72 – Book a Tee time – 1.877.362.4555, 1.250.362.9141 Located on the hill between Trail and Rossland about a 40 minute drive from the park, this 18 hole Signature Les Furber designed course challenges the best of them.