Kootenay Lake / Davis Creek Campground
We will welcome campers to Lost ledge mid April, 2023,  Davis Creek starting early may 2023.   Please check on the BC Parks website for an update on when the Discover Camping reservation system is to open up.

Please obey all in park signs, work to maintain physical distancing, frequently wash your hands and most of all, be kind to all. 
Our Park Hosts  will be there to Welcome you and help with anything you need to settle in. Campfires are allowed; wood is available for $10 per basket load.  Wifi available on site and it's fast!

Davis Creek is a smaller campground with 32 sites situated on the north-western shore of Kootenay Lake, 5 kms apart, 25 Km (16 miles) north of Kaslo off Hwy. 31. Known for outstanding views of the Purcell mountain range with lakeview, sheltered campsites that provide a million dollar view.
Davis Creek is north of Lost Ledge towards the Lardeau Valley and has recently undergone a reconstruction adding 10 new sites along the waterfront, an upgrade to the drinking water system and easier beach access points with the addition of a large retaining wall.
Easy beach access to Kootenay Lake makes water activities such as kayaking, canoeing and stand up paddle boarding an ideal way to pass the day. Swimming would be considered refreshing as the water tends to be cold. When the wind is up the area is also well known for windsurfing and kite boarding.
Davis Creek an excellent base camp for hikers wanting to explore the many trails in the area, read on for more info.
Group Campsite at Davis Creek can accommodate groups to a maximum of 50 people (including children) and a minimum of 15 people. Please contact Kootenay SW Parks – RAP Contracting 250.825.0117 for information or log onto Discover Camping and follow the links to reserve.
Rates:  $120.00 per night plus $5.00 a head for adults, $1.00 for children 15 and under.
Groups arriving without a reservation will be charged $21.00 per night per party.  This area will also be used as an overflow when not occupied by a group.
Local Places to Explore:
Kaslo Tourist Information Centre is located in the restored SS Moyie in beautiful downtown Kaslo. SS Moyie National Historic Society
Nelson Kootenay Lake Tourism has a full listing of just about everything the south west Kootenay area has to offer including upcoming events. Click through for the full tour.
Meadow Creek Spawning Channel is located at the north end of Kootenay Lake off Hwy 31, 4 kms up Meadow Creek Rd.
Lardeau River Adventures  Offers unparalleled whitewater rafting down the crystal waters of the Lardeau River. The breathtaking scenery is home to an abundance of Rocky Mountain wildlife. The river offers a mix of exciting class 2+ rapids, deep pools, waterfalls and mountain vistas. 4-6 hour guided trips geared for the novice and experienced rafter.
Cody Caves 1.250.359.CAVE (2283) Cody Caves Provincial Park was re-established in June of 2013. Since then Cody Cave Tours Owner / Operator Lee Hollis and his professional guiding team have been escorting hundreds of individuals and families through a fascinating journey of this fragile underworld. For children age 5 and up to adults who enjoy a physical adventure, there is a tour just for you. All bookings are confirmed by phone only.
Ainsworth Hot Springs  1.800.668.1171 / 1.250.229.4212 The pools provide the perfect place to relax and enjoy some of west Kootenays majestic scenery. Gallons of hot mineral water flows through the pools which changes the water naturally about 6 times a day. The Hot Springs feature a unique horseshoe cave, main lounging pool and (for the brave) a stream-fed cold plunge.
Natural & Cultural Values
History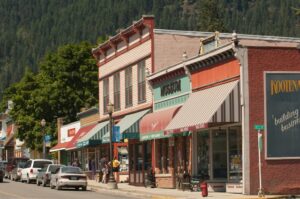 Davis Creek is 5 hectares in size and lies in the traditional territory of the Ktunaxa and Sinixt First Nation territories. These native populations used the lake and associated river systems as part of their seasonal migration and trading routes.
These resourceful people left few traces on the land but pictographs can be seen from the water in a few locations. Arrowheads and other artifacts indicate a favorite camping grounds.
The neighboring Lardeau is a former mining town that once had ambitions of becoming larger complete with a railway but now is a quiet mixed farming and logging community.
With the closing of Kootenay Forest Products, the land was reverted to the crown and Davis Creek and Lost Ledge Parks, formerly log dumps, were established in 1987.
Wildlife
Eagles, Osprey, Loons, Mallards and Canada Geese are often observed on the lake or along the shoreline with small mammals such as squirrels and chipmunks seen amongst the campsites and forest.
In late August the Kokanee Salmon return to spawn in Davis Creek, Lardeau River and the Meadow Creek spawning channel, all of which can be easily viewed.
View wildlife safely by following a simple code of Conservation Ethics:
Please be considerate of wildlife and use binoculars to view from a distance rather than approaching them too closely.
Be considerate of Habitat- Plants are important habitat for wildlife, please do not damage, pick or trample and please   stay on the designated trails.
Please control pets by keeping dogs on a leash and under voice control at all times in order to protect wildlife and preserve their habitat.
Bears and Cougars frequent the area around the West Kootenays and can be more common at both Kootenay Lake campgrounds. Please read the information given on the BC Parks Website, know before you go.
Canoeing, Kayaking and Stand up Paddle boarding
There are opportunities for canoeing and kayaking on the lake. Access is from the lake front at Davis Creek or the boat launch at Lost Ledge. Shoreline canoeing is recommended, due to unpredictable winds and sudden squalls.
Paddle Boards and Kayaks available for rent – inquire with the Park Host.
Fishing
Situated on Kootenay Lake, the park features great fishing from the shore or by boat. Kootenay Lake supports record-sized rainbow trout.Anyone fishing or angling in British Columbia must have an appropriate license. Check the BCFishing Regulations Synopsis for restrictions and quotas. The purchase of your freshwater fishing license pays for the stocking of lakes across the province. For more information on how to obtain a license please log on to "go fish BC" Check the BC Fishing Regulations Synopsis for quotas and restrictions.
Swimming
The beaches are pebbly with course rock and the water is considered cool to refreshing but perfect to sit, relax and enjoy the surroundings. There are NO LIFEGUARDS on duty at provincial parks.
Cycling
Cycling north of the campground up Hwy 31 into the Lardeau Valley is reasonably flat with spectacular views though the shoulders can be a bit rough. In the parks, bikes must keep to roadways and helmets are mandatory.
Hiking
Earl Grey Trail at Argenta  &  Fry Creek Trail at Johnson's Landing – more info to come
Davis Creek / Fishhook Lake – The trail head access is across Hwy 31 from the park entrance. This 5.2 km (3.2 mile) round trip, is rated moderate and should take 2.5 to 4 hours. The trail is steep but the efforts are worth it once you glimpse the view of Kootenay Lake and the Purcell Mountains. The trail takes you through a stand of impressive hemlock and cedar groves and ends at Fishhook Lake.
Monica Meadows – The trail head is access from the upper Glacier Creek Valley, east of Duncan Lake, approximately 1 hours drive from Davis Creek along dirt roads. The trail is 8kms round trip and should take 5 hours which allows time to explore the beautiful meadows.
Jumbo Pass – The trail head is a bit further past the turn off for Monica Meadows along the Duncan Lake Forestry road. The trail is 8.4 kms (5.2 miles)
Mount Buchanan Lookout Trail – From Kaslo, head west on highway #31A for 3 km to the Blue Ridge Forest Services Road, then follow signs. Follow the main road for 11.9 km to the lookout, staying right at the 7.0 km junction. The trail is 4 kms round trip and offers magnificent views and leads to a decommissioned fire lookout.
Golfing
Kaslo Golf Club – 2,824 yards, Par 35. This meticulously groomed 9 hole course offers a unique challenge for golfers of all level. For information on tee times call 250.353.2262