Syringa Provincial Park
We will welcome campers  to Syringa late April 2023 with a mix of reserved and first come, first serve sites.  Please obey all in park signs, limit your campsite to 8 people total 24/7, work to maintain physical distancing, frequently wash your hands and most of all, be kind to all.
Important Notice:  Until further notice, due to aging infrastructure Syringa campground and day use area is under a Boil Water Advisory. The tap water should not be used for drinking, making infant formula, juices, cooking, making ice, washing fruits, vegetables or brushing teeth.  For these purposes, boiled or treated or bottled water should be used.  Alternatively, boiling water destroys all disease causing microorganisms (pathogens) and is considered safe to drink after cooling. Water should be brought to a rapid rolling boil for 1 minute prior to consuming.  Campers may take showers with untreated water – please direct younger children not to drink the shower water.   We apologize for the inconvenience.
Bighorn Campground now has electrically serviced RV sites #62 – 70 with 30 & 50 amp on sites 62 to 68 and 30 amp to 69 & 70.   All electrical sites may be reserved through Discover Camping, a $7 surcharge applies.  Firewood available on site $10 for a generous basket.

The Sturgeon Point Group Site is located in the Boat Launch area can comfortably fit up to 5 trailers with trucks and 5 tents up on the second level.  Reservations can be made up to 12 months in advance by clicking through the link above to the BC Parks Reservation Services.  If you have any questions or concerns please contact the RAP Park Contracting directly at 250.365.6945

Syringa Provincial Park is a 19 Kms, 25 minute drive from Castlegar, British Columbia and is 10 minutes past the Hugh Keenleyside Dam on Broadwater Road, a paved highway. Nestled between the Monashee and the Selkirk mountain ranges the park encompasses
4417 hectares. It is situated at the southeast end on the shores of the Lower Arrow Lake, a part of the Columbia River that was widened and deepened with the construction of the Hugh Keenleyside Dam at Castlegar. Recreation opportunities on the Arrow
Lake Reservoir have made the park a long-time popular destination and offer a comfortable base camp for the family to pursue a variety of recreational pursuits including fishing, boating and swimming.
The park protects not only provincially significant interior Douglas-fir forests but also preserves one of the few remaining examples of grassland ecosystems in the Kootenays. A variety of wildlife are at home in the park including, elk, deer and a herd of rocky mountain bighorn sheep that can often be observed grazing on the many rock bluffs. Opportunities for nature appreciation occur all year making this park a destination in every season.
Local Places to Explore:
The Castlegar & District Chamber of Commerce and Visitor Centre – 1995 6th Ave. Castlegar 250.365.6313 or toll free: 1.888.365.6313.
The Castlegar & District Community Complex  – 2101 6th Avenue, Castlegar  1. 250.365.3386 A multi-purpose facility that houses an arena, a 6 lane/25 meter pool and leisure pool, whirlpool, weight room, fitness studio, Adjacent to
the facility are four tennis courts, soccer/football field, ball diamond and skate boarding park.
Brilliant Suspension Bridge – Built in 1913 the 100 meters long Brilliant Suspension bridge connected the Doukhobor Villages with their agricultural land. As part of the Trans Canada Trail the bridge is open for foot traffic and offers
a bird's- eye view of the Kootenay River.
Canadian Pacific Railway Museum – One of the best preserved CPR station houses the local museum is filled with antique treasures, memorabilia, a real caboose, gift shop and news archives.
Be sure to allow enough time to stroll the beautiful grounds.
Kootenay Art Gallery – Explore a diverse collection of exhibits and works by local and international artists. The grounds are well maintained and feature a working sundial.
Doukhbour Village Museuma> – Open from May to September the Doukhobor Discovery Center will introduce you to the culture and heritage of the original settlement with over 1000
artifacts to showcase the pioneer's spirit.
Zuckerberg Island Heritage Park – Take a walk around this historic island park and discover a heritage of human and natural history unique within the Columbia
River valley. Your visit will take you back several thousands of years when the Lakes Salish Indian people first fished and built their winter pit houses here; almost 200 years ago when David Thompson canoed down the Columbia past this island; and
80+ years ago when Alexander Zuckerberg built his unique Russian Orthodox Chapel House. There are over five acres of open woods and a variety of paths to explore. You may select from many picnic tables and benches for lunch and relaxation
Other local attractions worth a visit – The Hugh Keenleyside Dam, the Mir Centre for Peace, the Verigin Memorial Park and a busy summer schedule of Festivals, Farmers Markets and Fairs.
Natural & Cultural Values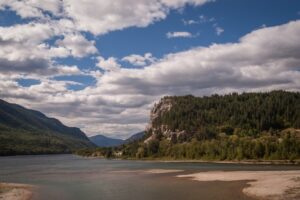 History
The Park was named for Syringa Creek, which flows into the Lower Arrow Lake near the park's eastern or southeastern boundary. The "Syringa" or Mock Orange is a shrub which is indigenous to the area. It blooms in early spring showing clusters of white
flowers with bright yellow stamens that emit a powerful, pleasing fragrance. First established in 1968 to provide recreational opportunities, the park was increased to its present size in 1995 to protect a provincially significant ecosystem.
Wildlife
– A herd of Rocky Mountain Bighorn Sheep frequent the southern facing slopes above the Lower Arrow Lake, as do White-tailed deer, Mountain Goats, Rocky Mountain Elk and Bears. Park users should always be aware of wildlife in our natural park environment
and never feed or approach bears or other wild animals, please view from a safe distance. The best way to avoid incidents with wildlife is always look ahead on the trails for wildlife, make noise; talk to your friends, or sing your favorite song, make
your presence known. When sightings occur, take a detour and leave the area immediately.
– To avoid potential problems with bears, lock your food in your vehicle at night. Be sure to use the garbage containers provided and maintain a clean campsite.
– Before venturing into the park please take a few minutes to review the Wild life Guidelines laid out by BC Parks. http://www.env.gov.bc.ca/bcparks/explore/wild_gen.html
View wildlife safely by following a simple code of Conservation Ethics:
– Be considerate of Wildlife… use binoculars to view from a distance rather than approaching them to closely.
– Be considerate of Habitat… Plants are important habitat for wildlife, please do not damage, pick, or trample and please stay on the designated trails.
– Please control pets by keeping dogs on a leash and under voice control at all times in order to protect wildlife and preserve their habitat.
Boating
Boating of every description is enjoyed from the shores of the park. A double wide, concrete boat launch at the southeast end of the park has a large, gravel vehicle/boat trailer parking area with a capacity for 85 cars. Boat trailers can be parked
overnight and boats are sometimes left in the water or beached but the shoreline offers no protection against weather changes.
Water skiing, wake boarding, fishing and general cruising are all enjoyed on the lower Arrow Lake with access from the Park.
Scotties Marina is nearby should you need boat supplies, camping supplies or fuel.
Canoeing
The peak months for canoeing and kayaking are July and August when the water is high. Shoreline canoeing/kayaking is recommended as lake weather can change rapidly. Easy access is provided at both the boat launch and day-use/picnic area.
Kayak rentals are available from Scotties Marina or call 250 365-3267 for more information
Fishing
Lower Arrow Lake can provide excellent fishing for rainbow or bull trout, and kokanee salmon. Anyone fishing or angling in British Columbia must have an appropriate license which can be purchased at Scotties Marina just down the road from the Park.
Check the BC Fishing Regulation Synopsis for quotas and restrictions. http://www.env.gov.bc.ca/fw/fish/regulations/
Visit http://www.kootenayangler.com/kootenay_fishing_hotspots.html for the low down on the hot spots from the locals
Swimming
Syringa Park is on a reservoir and the water does fluctuate from spring through fall. The water level is low in May, rises in June and is at full pond for July, August and September. There are three beaches: Camper's Beach adjacent to the campground,
Boater's Beach at the boat launch and Main Beach at the primary day-use/picnic site. The upper portion of the beaches is sand with the lower portion rocky, which is mostly exposed at low water. For 6 weeks in the summer during high water, Main
Beach has a roped off swimming area with a maximum depth of six feet. The water temperature is described as refreshing to cool, however with three choices and a combined 450 metres of sandy beach, the park provides an abundance of sunbathing and
swimming opportunities. There are NO LIFEGUARDS on duty at anytime.
Wind Surfing, Kite Boarding and Small Sail Boats
Due to a prevailing north wind on Lower Arrow Lake, there are good windsurfing and kite boarding opportunities.
Cycling
Broadwater Road is paved from Castlegar to Syringa Park and is ideal for road riding.
Mountain Biking is permitted on some park trails and roadways only. There are eleven trails listed as bike friendly in the Castlegar area but none of the trails are bike specific. All of the trails (except the Millennium Walkway) are considered 'natural
trails'; this means cyclists should be confident riding on rough trails.
When cycling in the wilderness it is important to always be aware of your surroundings. Cyclists travel faster than hikers so there is a better chance of surprising wildlife. The best way of preventing this is to vocalize how much fun you are having,
hoots and hollers alert wildlife of your presence and will likely cause them to move on.
Bicycle helmets are mandatory in British Columbia.
For more information on the local trails, http://www.friendsoftrails.org
Golfing
Castlegar Golf Club 5500 – 6700 Yards, Par 72, Slope 128 To book a tee time call 250. 365.5006 Located on a secluded plateau overlooking the confluence of the Kootenay and Columbia Rivers, the Castlegar Golf Club is the perfect location for a serene
excursion from the hectic pace of everyday life. Only minutes from downtown Castlegar, you are instantly transported to a golfer's paradise.
Birchbank Golf Club 5400 – 6800 Yards, Par 72, Slope 120 To book a tee time call 250.693.2255 Situated along the banks of the Columbia River, on Hwy 22 between Trail and Castlegar, this 18 hole championship course is a fully mature, tree-lined classic,
with spectacular views of the Selkirk and Monashee Mountains. Known for its large manicured greens and contoured fairways, this extremely well maintained, great walker's course offers an enjoyable experience for all golfers.
Hiking
There are low impact walking trails that connect the campground to the day use area with approx. 8 kms of more difficult hiking trails accessible across the main access road.
The Yellow Pine Nature Trail is a year round trail, approximately 4 km long and takes 45 minutes to an hour to reach the top lookout. It has 3 access points – From the south end of the park, on the topside of the main access road, on Deer Park road
directly above the gate house and from the edge of the day-use/picnic area parking lot, continuing across Deer Park road. The trail climbs the hillside behind the park, is fairly steep and considered a moderate hike. It will take you through mature
yellow pine, past several granite rock outcroppings and offers intermittent views of Arrow Lake from a terraced hillside. Rest and enjoy the view from the first lookout or go all the way to the summit. Both lookouts have benches. An additional
2 km of trail links the picnic area with the campground.
Please check with our Camp Hosts or Guest Services staff for information on the other well traveled trails in the area.
For your own safety and the preservation of the park, obey posted signs and keep to designated trails. Short cutting trails destroys plant life and soil structure.
Rock Climbing
Nearby on the Castlegar Bluffs. Check out the Robson Rock Climbing Festival in June.